ACCOMMODATION

GREAT BARRIER REEF

ACTIVITIES

RAINFOREST

STAFF
Find Our Locations
When is the Best Time of Year to Visit Cairns?
Summer (December – February)
During summer in Cairns, average temperatures range from 23.6 - 34°C. The wet season begins building up around December, and most of the region's annual rainfall (around 2000mm) occurs in the summer months.
January is a wonderful time to explore Cairns; although it's in the monsoon or wet season, locals prefer to call it the 'green season' – when the creeks and rivers are flowing crystal clear, and the rainforest is at its luscious best. These are our hottest months of the year with rain tending to fall during the late afternoon and overnight with plenty of sunshine hours, most activities can be fully enjoyed. This is the best time of year to see our spectacular roaring Barron Falls at their best!
Kuranda Train & Skyrail: https://www.cairnstouristinformation.com.au/cairns-rainforest-tours/kuranda-tours/skyrail-kuranda-train-budget.html
Autumn (March – May)
It is still very warm in autumn, both day and night, with temperatures averaging between 21.5 - 29°C. March is slightly cooler than the previous months and April brings the beginning of the dry season, full days of sun with minimal cloud cover opens opportunities to experience the full range of fun things to do on offer in Cairns.
May sees Cairns cooling down a little. With winter just around the corner, the waters become cooler, and the trade winds start moving up from the south. Snorkelers and divers may need to start using wetsuits. May is also the month of manta ray madness at the Frankland Islands. These beautiful, graceful creatures visit the Frankland Islands every year in the cooler months and are frequently sighted on snorkel safaris.
Frankland Islands: https://www.cairnstouristinformation.com.au/great-barrier-reef-tours/cairns-island-tours/frankland-islands.html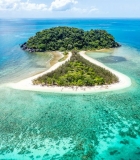 Winter (June – August)
Winter in Cairns brings slightly cooler temperatures and lower humidity, making it the peak tourist season. Average temperatures range from 17.5 - 28°C and there is low rainfall.
During the first month of winter, water temperatures on the Great Barrier Reef sit at around 23 degrees Celsius, while air temperatures range between 17.7 – 25.9 degrees Celsius. Dwarf Minke whales are prevalent in the area until the end of July making this a popular time of year for diving and snorkelling.
Late July to early August marks the beginning of the Humpback whale season and you will likely see these creatures in their natural environment if you take a tour to the Great Barrier Reef.
Minke Whale expeditions: https://www.cairnstouristinformation.com.au/great-barrier-reef-tours/great-barrier-reef-liveaboard-reef-trips/dsdd-minke-whale-season.html
Great Barrier Reef Cruises: https://www.cairnstouristinformation.com.au/great-barrier-reef-tours/great-barrier-reef-day-trips.html
Our winter is also a great time to spot the endangered and elusive Cassowary as they emerge from the rainforest to forage for fruits that are less prevalent in the winter months. A great place to see this magnificent animal is at Etty Bay near Innisfail (south of Cairns) or Cape Tribulation & Daintree national Park – day or overnight tours can be taken to this world heritage rainforest.
Please always remember to be Cass-o-wary! These animals can be highly aggressive particularly during breeding season when young chicks are present.
Daintree & Cape Tribulation: https://www.cairnstouristinformation.com.au/cairns-rainforest-tours/cape_tribulation_tour/active-tropics-cape-tribulation-day-tour.html
Spring (September – November)
In spring average temperatures range from 20.5 – 29°C. This is the end of the dry season when humidity starts to build with the onset of the wet season in December. In September the Cairns weather is as near too perfect as you could want. The days are pleasant without being too hot and the nights don't get too cold. In November the reef comes alive with the annual coral spawning.
Coral Spawning: https://www.cairnstouristinformation.com.au/great-barrier-reef-tours/coral-spawning-tours/coral-spawning-reef-trip.html
Ultraviolet (UV) Index Forecast?
Protect yourself from sunburn by using SPF30+ sunscreen, which is readily available throughout Australia at supermarkets, convenience stores and pharmacies, and wearing sun-smart clothing, including a hat and sunglasses.
What is the sea temperature in Cairns?
In summer, the average sea temperature at Cairns' northern beaches ranges from 28.9 - 29.4°C dipping slightly in winter to 23.8- 24.5°C.
When is the stinger season?
Stinger season or jellyfish season is generally between November and May in Cairns and Port Douglas. November it is sensible to wear stinger suits in the water, as box jellyfish and Irukandji can be deadly. Beaches are also lined with stinger nets. On the Great Barrier Reef risk of marine stingers is low, however stinger suits are recommended and available on tour boats.
What time is sunrise and sunset in Cairns?
December experiences the longest hours of daylight with sunrise at approximately 5:40am and sunset at 6:45pm. June has the least hours of daylight with sunrise at approximately 6:45am and sunset at 6.00pm.
You can also visit the following links for more detailed information on yearly climate statistics and current weather and wind forecasts:
http://www.bom.gov.au/climate/averages/tables/cw_031011.shtml
http://www.bom.gov.au/qld/forecasts/cairns.shtml
https://www.seabreeze.com.au/weather/wind-forecast/qld-far-north