ACCOMMODATION

GREAT BARRIER REEF

ACTIVITIES

RAINFOREST

STAFF
Find Our Locations
Visiting Cape York
When is the Best Time to Visit Cape York?
The Cape York tourist season is May to October. It's also called the 'Dry Season'. This is the best time of year for camping and travelling across the Cape. Why? For the rest of the year it is hot and wet and in many places the roads are closed, bridges are flooded, and Cape York businesses have shut up shop for the 'Wet Season'.
Camping in Cape York National Parks
Cape York has some amazing national parks and camping at them is very affordable. The amenities vary across the Cape and each Park, ranging from large well utilised camp sites with showers and toilets, to isolated bush camps with no facilities.
Please note camp sites at Cape York National Parks must be booked in advance and you will need to display your permit while on site. Many of these sites become very busy during peak season (July – September) and if you arrive on site without a booking or permit, you may miss out. For the most popular areas such as Chili Beach and Eliot Falls you should book as far in advance as possible. For other camp areas you might wish to stay at during school holidays, book at least 2-3 months in advance. Outside of holiday periods, book several days in advance.
Camping at Cape York Properties
There's also lots of camping spaces available at various properties across Cape York, including stations and caravan parks. Many of these are based at the Cape's townships, including Weipa, Seisia, Laura, Lakeland, and Coen. The amenities vary and again, space is limited, so you need to book in advance to avoid disappointment.
Camping at Cape York Roadhouses
The Cape has lots of roadhouses and they make a great place to camp too, especially when you want some amenities. Archer River Roadhouse is the last stop before you turn towards the 'tip'. On the banks of the Archer River, it offers guests lush green campgrounds, washing machines, food, and beverages.
Bramwell Junction Roadhouse is at the start of the Old Telegraph Track. It has BBQ facilities and sells food and drinks. It also has toilets and showers for campers. Musgrave Roadhouse used to be a Telegraph Station, today it's a well-maintained homestead offering accommodation and camping. It's 136km north of Laura, halfway between Cairns and Weipa.
Bush Camping at Cape York
Bush camping is another option on Cape York. There are some good places along the Palmer River and around Cape Melville. For independent travellers trekking along the Telegraph Track, there's lots of creeks and streams you can camp around. It's always good to ask the locals for their top tips, when you are re-fuelling or getting food and refreshments.
Alcohol Restrictions in Cape York
An important part of your Cape York trip planning is knowing about the alcohol restrictions. Dry communities exist where full alcohol bans or alcohol limits may be in place. Be aware of the areas that enforce alcohol limits per vehicle and where exemptions exist for travellers. https://www.qld.gov.au/firstnations/community-alcohol-restrictions/remote-discrete-communities/northern-peninsula-area
Be Croc-Wise
It's croc country up here so learn how to be croc-wise before you arrive https://environment.des.qld.gov.au/wildlife/animals/living-with/crocodiles/croc-wise. As part of your Cape York trip planning, brush up on the available advice to ensure you know what to do in case a croc is spotted while driving to Cape York.
-------------------------------------------------------------------------------------------------------------------------------
Suggested Itinerary:
Cairns to Cooktown Via Cape Tribulation or Mulligan Highway
Many travellers start their Tropical Far North Queensland and Cape York adventure from Cairns. There are 2 routes north from Cairns.
The Coastal route via Cape Tribulation, the Daintree Rainforest and the Bloomfield Track to Cooktown requires 4WD and is incredibly scenic. This is the only place in Australia where you can experience the splendour of tropical rainforest while being just a stone's throw from the World Heritage-listed Great Barrier Reef.
Daintree National Park: https://daintreeferry.com.au/ & https://parks.des.qld.gov.au/parks/daintree
Optional tours in the Daintree National Park:
Indigenous Culture: https://www.cairnstouristinformation.com.au/cairns-tour-bookings/aboriginal-culture/-kuku-yalanji-cultural-habitat-tours.html & https://www.cairnstouristinformation.com.au/cairns-tour-bookings/aboriginal-culture/mossman-gorge-dreamtime-walk---self-drive.html
Snorkelling Ex Cape Tribulation https://www.cairnstouristinformation.com.au/great-barrier-reef-tours/port-douglas-reef-day-trips/ocean-safari-cape-tribulation.html)
The Inland route via the fully sealed Mulligan Highway gives the option of turning off at Lakeland towards Laura or continuing to Cooktown from where you can take the 4WD Battlecamp Road on to Laura.

Cooktown/Laura to Lakefield
Explore Queensland's second largest National Park Lakefield with its rivers, lagoons and swamps is a wildlife refuge and home to several threatened species. There is prolific birdlife, and both estuarine and saltwater crocodiles, with plenty of barramundi in the rivers. Recreational fishing is permitted at all camping areas with barramundi and catfish the most common species caught.
Permits for camping must be pre booked through Queensland National Parks https://parks.des.qld.gov.au/parks/rinyirru-lakefield 4WD is essential and campers need to be fully self-sufficient. There are several scenic campsites in the park.
Add an optional visit to Laura Rock Art Site: UNESCO regards the Quinkan Rock Art as one of the ten most significant bodies of rock art in the world! https://www.cairnstouristinformation.com.au/cairns-tour-bookings/aboriginal-culture/magnificent-gallery-rock-art-tour.html
Lakefield – Musgrave Station
Drive on from Lakefield to Musgrave historic telegraph station. Musgrave Telegraph Station is a heritage-listed former telegraph station and now roadhouse at Peninsula Development Road, it was added to the Queensland Heritage Register on 21 August 1992. Alternatively you can continue along the Peninsula Development Road up to Musgrave, approx. 140km. Stop in at the Hann River Roadhouse for refreshments, 76 km past Laura.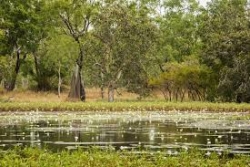 Musgrave Station to Coen
There are campsites and basic accommodation in Coen as well as a post office, general store, mechanical services, and petrol station. The beautifully restored Heritage House provides a glimpse back to the days gone by and an exhibition of old mining equipment is on display next door to the Heritage House. An option on this stretch of road is to turn off towards Port Stewart and there are some lovely camping spots along the Stewart River.
Coen – Bramwell Junction
Visit the Cape York Information Centre and Quarantine Inspection Station 20-km north of the township to find out more about this area. Friendly staff here can offer advice on places to visit and road condition http://www.cooktownandcapeyork.com/images/portlet_images/iconVIC.jpg/view
About 5km past the Quarantine Station is the turn off for Mungkan Kandju N.P which is a noted bird watching area. There are several campsites in the park and access is 4WD only. 66km further along the Peninsula Development Road from Coen, meals, camping and accommodation are available at Archer River Roadhouse as well as facilities for minor mechanical repairs. The Peninsula Development Road continues all the way up to Bramwell Junction, with time allowing it is worth taking the turn offs to fully appreciate Cape York Peninsula. At the Wenlock River on the PDR,Moreton Telegraph Station is a popular campsite.
Lockhart River and Portland Roads Route
About 35 km north of the Archer River is the turn off to Lockhart River The first river crossing is at the Wenlock River and just past this there is a track which leads to the old Batavia goldfields where you can still see some of the old mining equipment. The next river crossing is at the Pascoe River – this is a longer stretch with a sandy bed. The track then leads towards Iron Range N.P with some spectacular scenery and Australia's largest area of lowland rainforest. The campsites at Chilli Beach are very popular and there is great bird watching with 15 endemic species, and some interesting walking trails in the park. Lockhart River is an Aboriginal community famous for the incredible array of artistic talent produced by the Lockhart River Art Gang. A visit to the arts centre is a great experience. There is also a supermarket and fuel in the town.
Weipa and Merluna Route
The turn off to Weipa is around 50km north of Archer River. The family operated Merluna cattle station is located off the Weipa Road, they also offer accommodation and camping. From Merluna you can drive to the bauxite mining town of Weipa, with modern facilities and fantastic fishing. This is a good place to stock up on supplies or enjoy the world class fishing. From Weipa you can drive east through Batavia Downs Cattle Station to Moreton Telegraph Station, on the Wenlock River or continue from Merluna on the Telegraph Road up to Bramwell Station or Jardine National Park.
Peninsula Development Road - Bypass Roads
From Bramwell Junction you can either take the challenging Old Telegraph Line 4WD route or the PDR Bypass roads which are maintained to a good standard. The Bypass roads are around 260 km from Bramwell Junction to the Jardine ferry which can take up to 5 hours. Interesting side trips from the Southern Bypass Road include the turn off to Captain Billy Landing where there is a campsite.
The Old Telegraph Line
The Old Telegraph Line really starts after Bramwell Junction and continues up to the Jardine River. It is important to have a properly equipped 4WD for this adventurous route but most travellers to the Cape will take the OTL north then return by the bypass roads. Driving north you will need to negotiate several creek crossings, some of which have challenging entry and exit points.
Palm Creek is the first crossing, then you face the Ducie River, South Alice Creek and North Alice Creek. After around 30 km from Bramwell Junction you come to the Dulhunty River which is a popular spot to camp.
Next is Bertie Creek and after this there is the option of the Gunshot bypass or continue along the OTL to Cholmondely Creek. The infamous Gunshot Creek is the next crossing – this is probably the most challenging crossing on the OTL. Then you continue to Cockatoo Creek, another challenging crossing, and the final creek crossing is the bridge over Sailor Creek.
The section from Bramwell Junction to the intersection with the Northern Bypass Road is approx 80 km which can take up to 5 hours depending on conditions. At this junction there is a track to Heathlands Reserve and the lovely Fruit Bat Falls which offers a refreshing swim stop on the way to the campground at Eliot Falls and Twin Falls.
Fruit Bat Falls, Jardine River National Park. Courtesy of Tourism Queensland
The OTL continues from Eliot Falls through the rough Canal Creek, then you face crossings at Sam Creek, Mistake Creek, the aptly named Cannibal Creek, the rickety old bridge over Cypress Creek, Logan Creek and Nolan's Brook before emerging at the Jardine River. A track then leads back to the Northern Bypass Road and the Jardine River ferry. The section from Eliot Falls to the Jardine River is approx 40 km and can take up to 4 hours depending on conditions.
Jardine River - Bamaga/Seisia/Tip of Cape York
Cross the Jardine River by cable ferry and head to the northernmost tip of Australia. Ferry tickets can be purchased online https://www.nparc.qld.gov.au/services/travel-transport/ferry-ticket You can also contact the Northern Peninsula Area Regional Council for further information - phone 07 4090 4100. The drive from the Jardine ferry to Bamaga is about 42 km and Seisia is 6km north of Bamaga. There are several camping and accommodation options in Bamaga, Seisia, Loyalty Beach and Punsand Bay with guided tours, hire cars and fishing available within the area.
As well as the great fishing there are several WW2 sites, pioneer mining sites and old telegraph memorabilia to visit. Long stretches of deserted beach and the Lockerbie Scrub Rainforest Trail provide good walking options. The historic Somerset beach is another popular site to visit.
The Tip of mainland Australia is 32km from Bamaga and 7km north of Lockerbie – the must-see destination for all visitors to Cape York Peninsula. Having made it to The Tip spend a few days to enjoy the whole area and why not extend your trip to the Torres Straight Islands.
Roko, Thursday and Horn Island
Thursday and Horn Islands are the most visited of the remote Torres Strait Islands, Australia's most northerly frontier. The islands have a fascinating history of Indigenous seafaring inhabitants distinct from mainland Aboriginal people, pearling and WWII defence, and a relaxed island culture.
Roko Island is well known for its very long floating jetty made of logs, bamboo, floating barrels, and hardwood. Roko island also offers guided tours to the pearl farm. You will learn how pearls are made, watch, and witness the birth of a pearl during the delicate harvesting operation.
-------------------------------------------------------------------------------------------------------------------------------
Cape York Self Drive Guides:
Destination Cape York Guide:
Cape York Roads:
RACQ Road Closures and Conditions Interactive Map:
Cape York Map:
Discover more about what Cape York has to offer by visiting the Cape York traveller's guide Hema Maps:
Vehicle Preparation:
4WD Hire: